ABOUT US
About Us
The International Brotherhood of Electrical Workers Local Union 490 represents workers in the electrical construction, maintenance, and telecommunications industry.

By joining IBEW Local 490, you give yourself and your family the opportunity to improve your quality of life. Your contract is negotiated every three years with management by you, your coworkers and your elected IBEW Local 490 leaders. EVERY MEMBER has a RIGHT to make suggestions about the contract and vote on the final agreement.

With your support and participation and that of other members of Local 490, we will continue to win the best Wage and Benefit Package possible and continue to protect your rights on the job.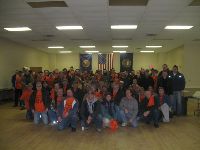 Page Last Updated: Mar 09, 2018 (09:34:00)